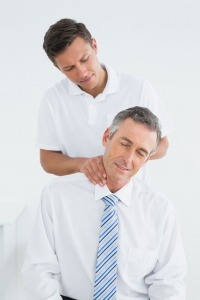 Our Purpose
To adjust, inform and encourage our patients to embrace natural chiropractic care to maximise their optimal health and empower them to make positive lifestyle choices.
We want to be the premium provider for Chiropractic Services in the Moreton Bay Region. So if you live in Clontarf, Deception Bay, Kippa-Ring, Redcliffe or Rothwell areas, get in touch with our professional team and find out how we can assist.
Why Chiropractic?
Your nervous system which is comprised of your brain and spinal cord, is the master controller coordinating the function of every cell, tissue, organ and system of your body. For your body to function at its best, information must be relayed between your brain and body via your nervous system.
Your spine protects your nervous system. The spine is made up of a column of movable vertebral joints, and sometimes these joints can "lock" or "jam up." When this occurs, the nervous system can be irritated, interrupting the flow of information between your brain and your body, and your health may be diminished.
Physical stresses to the spine such as accidents, falls and poor posture can affect spinal function. Mental and emotional stresses, as well as chemical stresses such as excessive sugar, caffeine and alcohol may also inhibit optimal spinal function.
Chiropractors are trained to detect and correct dysfunctional spinal and other joints, by gentle adjustments. Chiropractic adjustments restore normal function and movement to areas in your spine and other parts of your body that are not functioning correctly, thus enhancing communication pathways between your brain and your body.
Chiropractic Adjustments
An adjustment is a gentle, specific and controlled force applied in a particular direction. Adjustments can be performed by hand, by hand held instruments, blocks (wedges) or mechanical drop-piece tables. Different adjustments suit different spines, so we tailor your adjustment to your individual needs and preferences.
Some chiropractic techniques cause an audible "popping" noise when an adjustment is performed. This is caused by the release of gas within the joint.  Spinal joints are lined with fluid.  When a movement occurs in the joint from the delivery of an adjustment, the pressure within the joint space changes, some of the fluid changes to gas, and the "popping" noise is produced.
Chiropractors are highly educated
Chiropractors educated in Australia receive a minimum five years of full time University undergraduate study.
The course is similar in length and depth to medicine.
Chiropractic university courses include subjects such as:
The focus of chiropractic education is the promotion of a healthier lifestyle via improved spinal and nervous system function rather than with drugs and surgery. After graduation and registration with AHPRA, chiropractors must complete annual Continuing Professional Development requirements to maintain current registration.
Who goes to a chiropractor?
Patients come to our office with various complaints including: